Start your summer off right by checking out some of NYC's top rated food halls …
(As posted by TimeOut)
1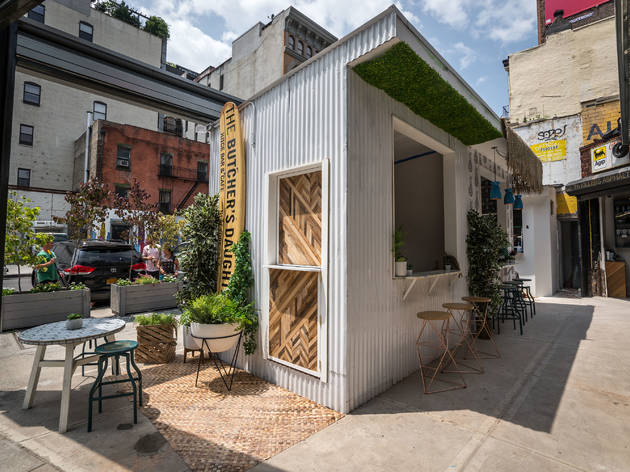 The Bowery Market
This East Village mini food hall is out in the open air, with crimped tin structures that give it a laid-back island-town vibe. With only five vendors, it's less a destination for grazing from different stalls and more a place to go when you have a hankering for one of the (very quality) food options, but can't get your dining party to agree. Team Sandwich and Team Taco can finally eat together in harmony.
What to order: Sushi on the Jones offers the city's only outdoor omakase, one of the best affordable tasting menus in NYC. Don't let the casual fast-dining concept fool you—sushi chef David Bouhadana knows exactly what he's doing.
2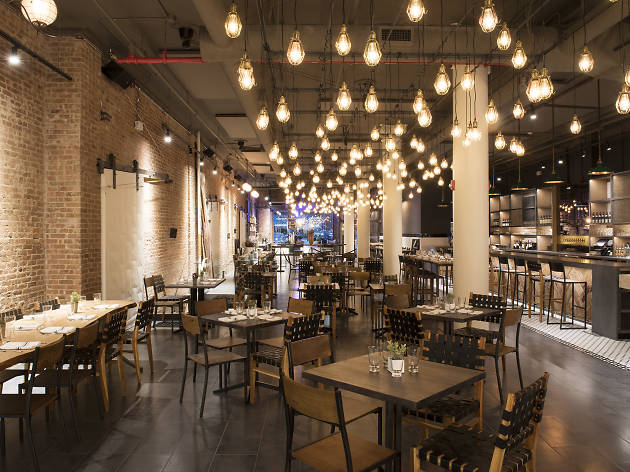 Union Fare
Next to Union Square, a landmarked warehouse building houses a "gastrohall," with a variety of food stalls all by the same vendor, Union Fare. Nine different counters are divided into categories like Salad, Italian/Pizza, Raw Bar, Roasts/Soups, Charcuterie and even one that's completely devoted to the Hawaiian raw-tuna dish known as poke. The rustic charm of exposed brick walls and bare light bulbs warms up the massive space.
What to order: Head to the Union Fare Bakery counter for some of the fluffiest and most unusually flavored croissants you've ever seen. Flavors like crème brulee, red velvet, birthday cake, and Fruity Pebbles(!) make them Instagrammable gems.
3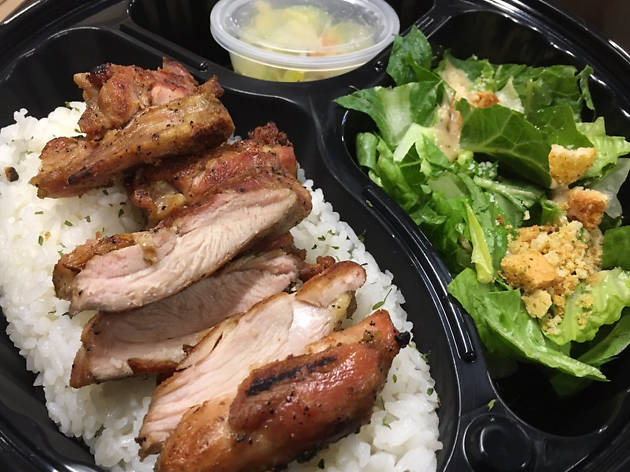 Queens Crossing
Located inside the brand new Flushing mall, this may be a food court, not its own stand-alone hall, but that doesn't change the basic concept: good food, diverse options. Wooden tables, high-stool seating areas, and an interesting wooden geometric motif add to an upscale design aesthetic that fly in the face of everything you think of when you hear the words "mall food court." This goes for the food as well, with vendors curated to represent a diverse array of Asian cuisines—absent are any typical mall staples like Panda Express.
What to order: Last December, the Queens Crossing mall unveiled a foodie haven on its second floor, with stalls touting Taiwanese bubble tea (Happy Lemon) and South Korean comfort food (Tori). But for our money, Japanese chef Takanori Akiyama's Curry Bo takes the Asian-flavored cake, with sinus-clearing curry plates ($7.50 to $9.75) bursting with flavors—all are made with a two-weeks-aged roux of chili peppers, garlic and 16 other spices—such as a veggie-friendly mushroom-and-tomato and meaty options like katsu, a Japanese pork cutlet.
4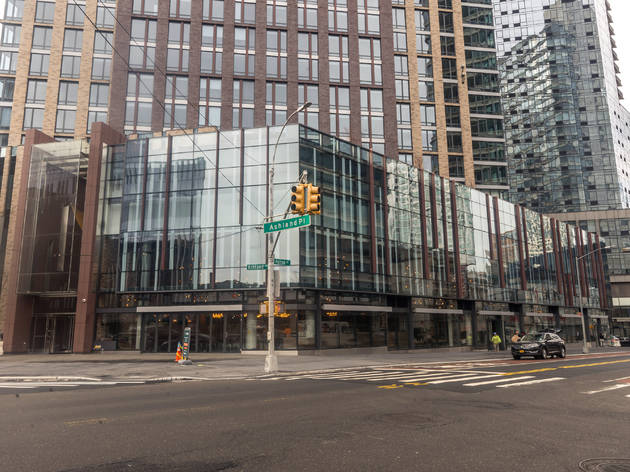 Gotham Market at the Ashland
On the ground floor of a luxury residential building, this Fort Greene brother of Gotham West Market is Brooklyn's newest food hall. Bar Granger greets you as you enter, subtly suggesting you pick up a drink to go along with your food selection. High ceilings, plentiful seating, and colorful decorative lighting add a sheen of sophistication to the normally casual food-hall setting.
What to order: The team behind Dinosaur Bar-B-Que is further staking its claim on Brooklyn with this waves-making Fort Greene food hall specializing in free-range Amish chickens. Swing by Flip Bird at Gotham West Market's sister location for a midday Mr. Crispy sandwich ($8) or a heartier three-piece fried chicken paired with salt-and-vinegar fries, and white beans with chorizo and kale ($13). You can't lose with any of those choices, but the budget winner is the whole spatchcocked chicken feast that comes with fries, hot-from-the skillet fried broccoli brown rice and pickled vegetable coleslaw ($32). It's quite the deal.
5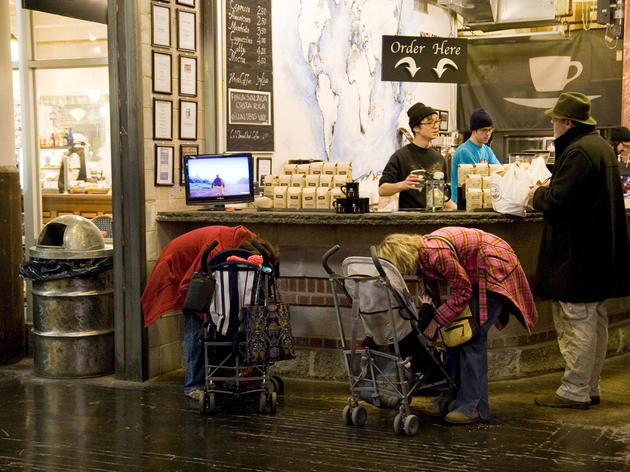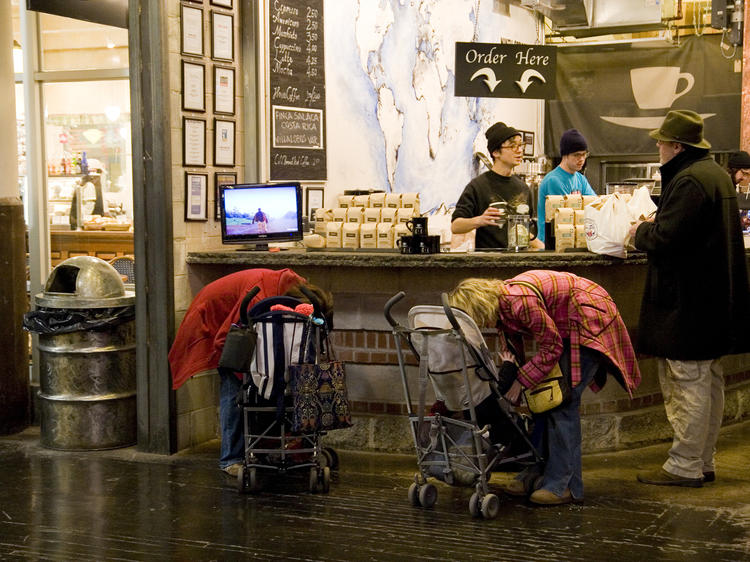 Chelsea Market
Roaming Chelsea Market is arguably some of the most fun you can have inside one city building. The Nabisco Oreo factory turned gourmet paradise is responsible for starting the city's trend of collecting diverse food vendors under one roof, and this food-hall veteran has come a long way since its inception. Today the factory-feel remains, adding nostalgic charm to a slew of stalls hawking epicurean delights, sit-down restaurants (making a total of 38 food options!) and shops.
What to order: The folks from Chelsea Market's ridiculously popular Los Tacos No. 1 have turned their attention to fresh seafood for spin-off Los Mariscos. Nosh on the Baja-style fish tacos ($3)—a perky dream of breaded bass, pico de gallo, cabbage and mayo—and shrimp ceviche ($5), or pile on the heat with a perfect- for-two aguachiles (think spicy Mexican ceviche) with red or green shrimp ($17.50). Completing the beachy vibes, the tiny stand pours Pacíficos ($4.50) and Micheladas ($8).
6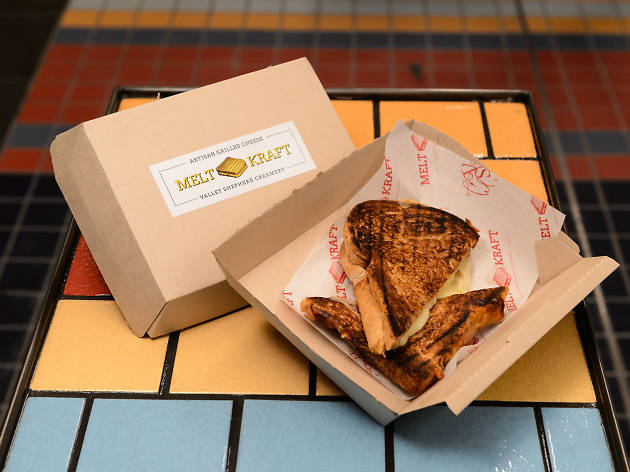 TurnStyle
Normally, New York subway stations are not places that induce an appetite; Turnstyle is perhaps the one exception. The developer, Susan Fine, carefully selected a crew of vendors to appeal to the tastes of different commuter demographics (teens on their way to school, lunch-seeking business folks, etc.), and intentionally opted for mostly smaller, artisanal brands. If you've ever been so hungry on a rushed commute that you started eyeing the packaged peanuts at magazine stands, you can probably get behind the idea of varied, quality food options on the go.
What to order: Bolivian Llama Party, Manhattan's only Bolivian restaurant (housed in, of all places, a subway food court at Columbus Circle) grew out of Smorgasburg, where brothers Alex, Patrick and David Oropeza served their family's recipes. With no seats at this stand, you're best off opting for portable sandwiches and pasties. Grab a chicken salteña ($6), a flaky pastry filled with a stewy meat center that's traditionally eaten as breakfast but is appropriate for any time, or the triple-pork- threat chola ($11), a street sandwich that combines braised pork shoulder, pork belly crackling and house-cured bacon.
7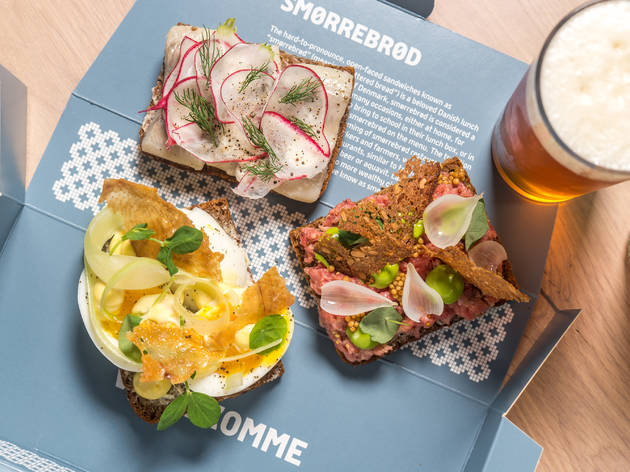 Great Northern Food Hall
Unlike many food halls where diversity is the name of the game, Great Northern Food Hall devotes itself to Nordic food the way Eataly does for Italian. Danish restaurateur Claus Meyer—he of Noma fame—curated everything at this Grand Central Terminal food hall, and much of it may seem familiar if you love the farm-to-table concept. Think open-faced rye bread sandwiches, pickled herring, salads, baked goods, porridges and all- around delicious wholesomeness.
What to order: Traditional Danish open-faced sandwiches, or smørrebrød, from pavilion Open Rye. Look for tasty combinations including potatoes will dill mayo and pickled onions, and hardboiled egg with crispy chicken skin and peppercress ($5–7).
8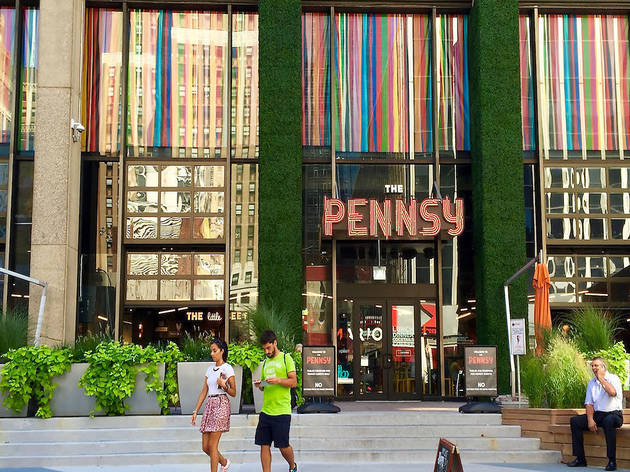 The Pennsy
This January addition to the city's food hall scene sits inauspiciously above every New Yorker's least favorite place: Penn Station. Luckily, it's home to a number of quality vendors, from meat masters Pat LaFrieda to vegan junk-food slinger the Cinnamon Snail.
What to order: The Lobster Press from Marc Forgione's spot of the same name, a gloriously buttery, pressed lobster sandwich. Be sure to do the dip with the hot, spicy broth served alongside. $17
9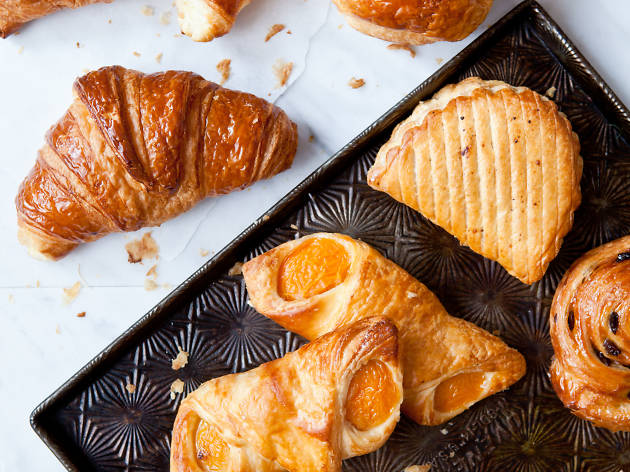 Le District
FiDi-focused restaurant mogul Peter Poulakakos has launched a whopping 10 projects south of Chambers Street (Dead Rabbit, Pier A Harbor House), but this industrial-styled French-food complex is his largest undertaking yet. The 30,000-square-foot market is divided into a bakery-café, meat and cheese stalls, an open-air grocery shop and two sit-down restaurants, Beaubourg and L'Appart.
What to order: Class up food-court dining with L'Appart's French tasting menu (organic-zucchini hand rolls, a roasted-beet mille-feuille) helmed by Daniel alum Nicolas Abello. One course $105, two courses $125, three courses $145
10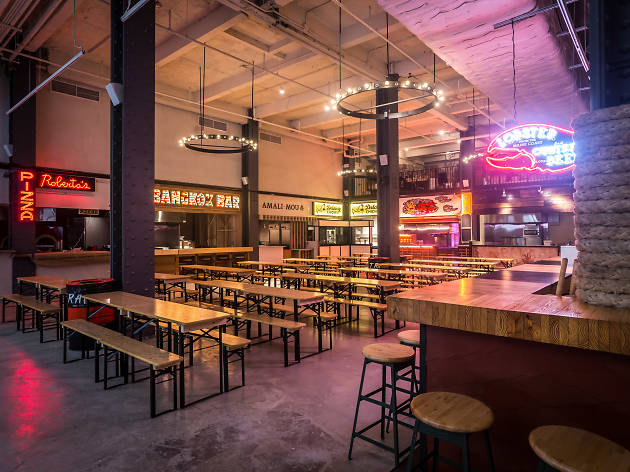 Urbanspace Vanderbilt
This Midtown spot changed the workaday lunch game when it opened on Park Avenue last fall. Twelve-thousand square feet of snacks served up by grade-A vendors like Bushwick's Roberta's and Ditmas Park's Mimi's Hummus, the hall quickly and efficiently made office workers' sad desk lunches a thing of the past.
What to order: The down-and-dirty burger from ground-beef purist Andrew Zurica's Hard Times Sundaes, improbably juicy and served in a stack of one, two or three patties. $6–11
[/vc_column_text][/vc_column][/vc_row]